Intro #
The FRITZ!Box sold by FASTfiber is already configured. You only need to connect it. Please follow the steps below.
How to connect the FRITZ!Box #
Connect to power #
→ Connect the power supply unit to the power socket on your FRITZ!Box
→ Plug the other end into an AC power outlet
Connect the FRITZ!Box to the fiber ONT #
→ Insert the yellow-white network cable into the LAN1 port on your FRITZ!Box
→ Insert the free end of the cable into the LAN port of your Fiber ONT on which the line is activated.
By default, the internet service is active on the LAN port 1-1 of the Fiber ONT, though, if there was already a fiber connection active on the ONT before, the internet service will be active on the next port, 1-2. You can find the correct port number on the order confirmation. Some new fiber ONTs only have 1 LAN port, in this case, connect your network cable to this LAN port.
Connect your PC or laptop to your FRITZ!Box #
Using a wireless connection (Wi-Fi) #
The WIFI (SSID) can be found on your WIFI setting on your PC as 'FRITZ!Box 7530 XX'.
The network key (WIFI Key) can be found at the bottom of the modem under WLAN Network Key. The network key always consists of 20 digits without spaces or other characters. Consult the manual of your device (PC) to connect via Wi-Fi.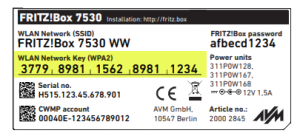 You can switch the modem's WIFI function on and off by simply pressing the WLAN button on top of the modem. The WLAN light on the front of the modem is green if the WIFI function is enabled.
Using a LAN cable #
→ Insert the network cable into the LAN socket of the computer
→ Insert the free end of the cable into one of the remaining LAN sockets (LAN 2 — LAN 4) on the FRITZ!Box.